McCarthy, Perry Crowned National 24-Hour Run Champions
The 2009 US 24-Hour Run National Championship was hosted by the inaugural North Coast 24 Hour Endurance Run at Edgewater Park in Cleveland, Ohio on Oct. 3-4. Conditions were nearly ideal, with temperatures in the 50's and 60's on the scenic lakefront course. Philip McCarthy, 41, of New York City and Jill Perry, 38, of Manlius, NY took their first national titles. McCarthy, one of the top Americans at the all day/all night event for the past three years and one of the favorites, compiled 151.51 miles for the win. Perry, a relative newcomer to ultrarunning at any distance, emerged victorious after a nip & tuck duel through the night with local favorite (and #2 all-time American) Connie Gardner, racking up 136.32 miles for the win. Veteran and former national champ John Geesler, 50, of St. Johnsville, NY, nipped Dan Rose, 32, of Washington, DC by just over one-tenth of a mile to take silver behind McCarthy. On the distaff side, relatively unknown Anna Piskorska, 37, of Blandon, PA placed second with 132.26 miles, ahead of another local runner and 2009 US National Team member, Debra Horn of Shaker Hts, OH, who totaled 128.93 miles. All six of these medal-winning athletes qualified for the US National Team which will compete at the World 24-Hour in Brive, France in May 2010.
The highlight of the event was the emergence of Jill Perry on the national stage. Barely an ultrarunner for 3 years and only in the previous 6 months having achieved any ultra performances on the edge of the "national class" radar screen (winning the Umstead 100 miler in a women's course record), the remarkable mother of 5 youngsters runs a coaching service for other running moms from her home base of Manlius, NY. All she did in Cleveland was break into the all-time top 10 on the U.S. Women's 24-Hour list. An equally big surprise barely 4 miles behind Perry was the similarly unheralded Anna Piskorska, who has now suddenly parked her rising star just outside the all-time U.S. top 10. Piskorska emigrated to the United States from Poland in 1992 and became a U.S. citizen in 2006. For a more predictable result, look no further than bronze medalist Deb Horn, who has quietly become one of the most consistent national-class ultrarunners in the country, and somehow manages to increase her personal best by just a little bit in every 24-hour race she runs.
Phil McCarthy had similarly emerged from obscurity in late 2006 to win the "who's that guy?" designation as bronze medalist in the National 24-Hour Championship. That was a performance that barely got him onto the 2007 National Team, and in the 2007 World 24-Hour he then played the same card on the world stage, causing a couple dozen national team managers to ask "Who's that guy?" in as many different languages. McCarthy's utterly unexpected 4th place in that year's World Championship was one of the most shocking surprises in the history of that event. But over the next two years McCarthy and virtually all of America's top tier of male 24-hour runners went into a deep funk with a spate of mediocre or poor performances. So, it was nice to see Phil take his first national title here, and in doing so become the first American to break 150 miles in the National Championship race since 2003. It was also nice to see 2-time national champ and multiple national team member John Geesler make an impressive comeback from a difficult 3-year string of disappointing races, and find his was back onto the national team. Finally, if Perry and Piscorska provided the element of surprise among the women, on the men's side it was cancer survivor and relative youngster Dan Rose in third, whose ultra resume, like that of the two top women, is relatively short, and hopefully merely an introduction of things yet to come.
It is these top 3 men and top 3 women, with such distinctive but varied personal stories, who will comprise the core of the National Team which will represent the USA in the World 24-Hour in May in France. The closing date for qualifying performances for the remaining 3 team spots each for men and women is Jan. 1, 2010. The full team will be announced shortly after that.
RESULTS (top 5)
MEN
1. Philip McCarthy, 41, New York, NY..... 151.49 miles
2. John Geesler, St. Johnsville, NY.....139.39 miles
3. Dan Rose, Washington, DC..... 139.22 miles
4. Keith Straw, Malvern, PA..... 137.87 miles
5. Tim Clement, Solon, OH..... 134.21 miles
WOMEN
1. Jill Perry, 38, Manlius, NY..... 136.29 miles
2. Anna Piskorska, Blandon, PA..... 132.24 miles
3. Debra Horn, Shaker Heights, OH..... 128.92 miles
4. Kim Martin, 44, Lakeville, MN..... 123.18 miles
5. Connie Gardner, 45, Medina, OH..... 116.19 miles
COMPLETE RESULTS: (Note: Scroll to bottom of page to see photos of top Americans after RESULTS)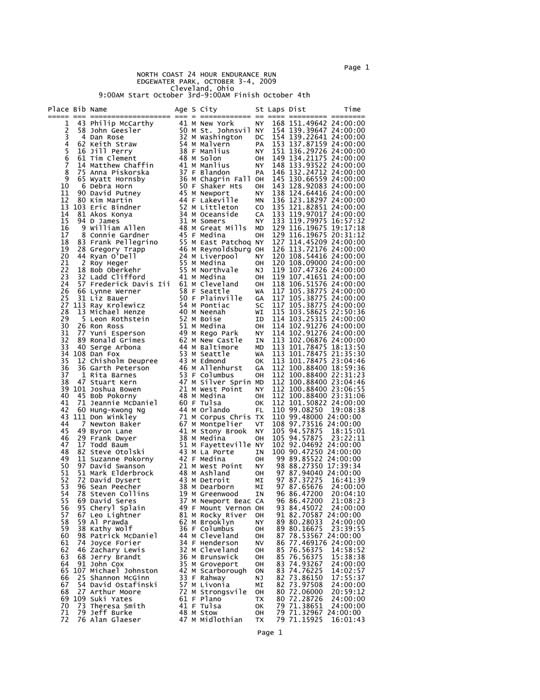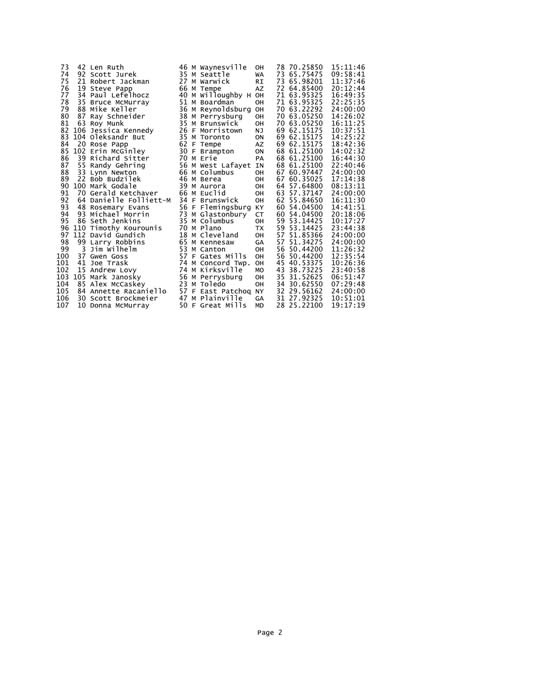 Photos courtesy of John McCarroll, SmugMug: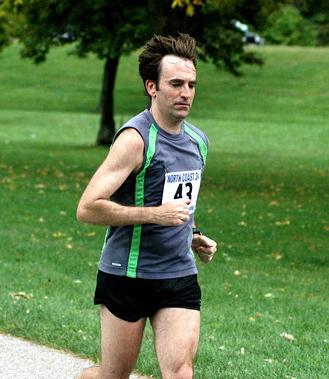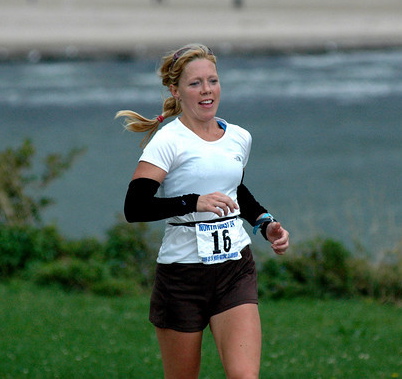 2009 USA Men's Champ Phil McCarthy 2009 USA Women's Champ Jill Perry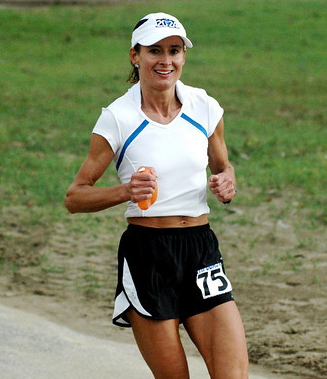 2009 USA Men's Silver Medalist John Geesler 2009 USA Women's Silver Medalist Anna Piskorska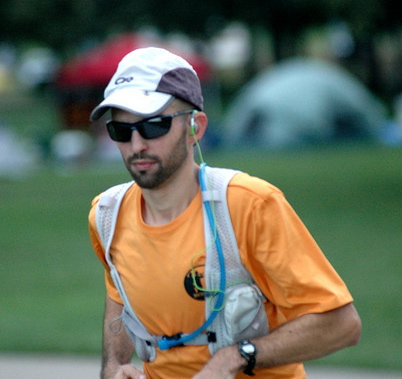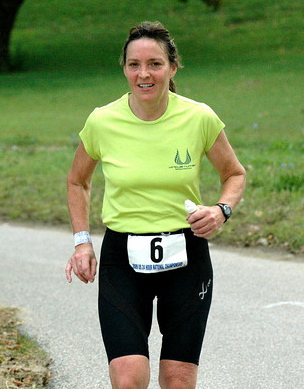 2009 USA Men's Bronze Medalist Dan Rose 2009 USA Women's Bronze Medalist Debra Horn