UPDATES ON USA TEAM AT 2010 WORLD 24-HOUR RUN CHAMPIONSHIP
(Scroll down for latest updates & refresh your browser often)
Sunday, May 9: Most of the team are on their way (or trying to make their way) to France. Unexpected problem: Volcanic ash from the Icelandic volcano is terrorizing European airspace again. Most flights this weekend are being either re-routed (causing extensive, domino-effect delays), or delayed, or (GULP!) canceled. We are hoping everyone on the team makes it to France.
Sunday, May 9: In 1988 the inaugural IAU 100km World Championship was marred by the death of the Race Director's father the day before the race. This year's 24-Hour World Championship faces a similar but bigger problem: the death of the Race Director himself, 5 days before the race.
Sunday, May 9: List of National Teams and Athletes Entered
Tuesday, May 11: All but two members of Team USA have arrived in Brive or are in transit by ground from Paris. The team members experienced varying degrees of delas or missed transportation connections due to the ongoing chaos to Atlantic air routes caused by the Icelandic volcano ash cloud. The current travel/delay status of Dan Rose and Serge Arbona are unknown. We hope to be able to track them down soon.
Tuesday, May 11: Team Leader Roy Pirrung reports that the team's hotel in Brive is excellent, with a great buffet-style restaurant, supermarket, and shopping center nearby. The technical meeting and Opening Ceremonies will be held tomorrow.
Wednesday, May 12: First photo of the 2010 team (from today's Opening Ceremonies)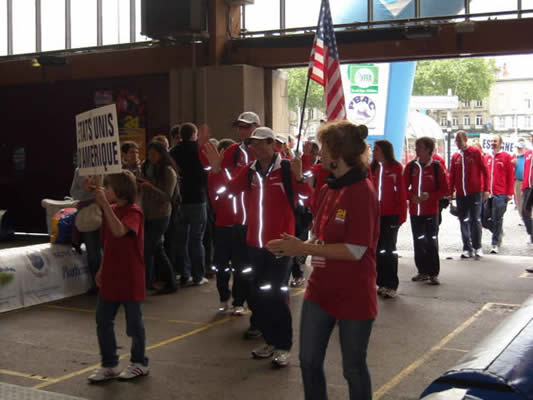 And another one:
Wednesday, May 12 Postscript: Missed this line earlier in a report from Team Manager Roy Pirrung: "Everyone is now here." That means that Dan Rose and Serge Arbona, along with the indispensable Dr. Andy Lovy, did eventually make it to Brive, and 100% of the Team USA is intact at their hotel (hopefully fast asleep as we write this). No casualties to that troublesome Icelandic volcano. Now all they have to worry about is the unforgiving clock and those other 20+ pesky national teams....
Thursday, May 13: THE RACE IS ON!
Good Conditions:
The race has begun! Team manager Roy Pirrung reports that all arrangements and circumstances have gone well for Team USA upon their arrival in France. 236 athletes representing 32 national teams began the race at 10:00AM local time. The weather is cool, damp, and overcast, the most favorable conditions for good performance that Pirrung has ever seen at a World 24 Hour venue.
First 2 hours: Americans Take Early Lead:
Americans Scott Jurek and Jill Perry have taken the lead right from the start. Jurek has stated his intent to go after Mark Godale's American 24 Hour Road Record of 162.46 miles, set in 1999 in Toledo, OH. Rae Clark's absolute American Record (The American Track Record of 165.24 miles, run almost 20 years ago in Portland, OR) looms beyond that. Jurek also has his eye on Clark's American Road and Absolute 12 hour mark of 98.00 miles. Unlike previous editions of this crucible of competition, the early pace for both men and women is measured and reasonable. Jurek is running at exactly 7 minutes per mile, among a group including Lee Dong Mun of Korea, Jose Luis Posado Perez of Spain, Jonathan Blake of Australia, and Shingo Inoue of Japan. Perrry is running alone in front of all the women, with only 26 men ahead of her, leading Sylvia Lubicsz of Hungary by over 2 minutes. After the first 2 hours, Americans Serge Arbona and Phil McCarthy are sitting in the top 10. Among the women, behind Perry, Amy Palmiero-Winters is running in 5th place and Jamie Donaldson sits in 12th.
Live, First-Person Reporting From the Race Site:
American Suzanna Bon's husband, Sam, is posting live reports (with photos) right from the Team USA crew tent. Follow the link from Suzanna's name on the team roster to follow Suzanna's and Sam's ongoing live blog.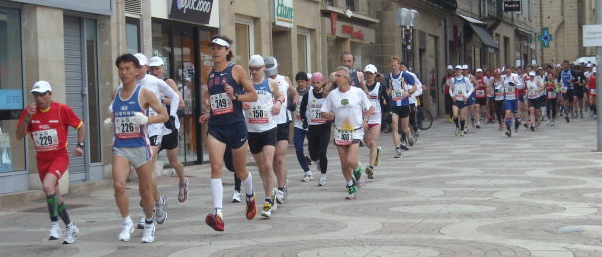 Scott out in front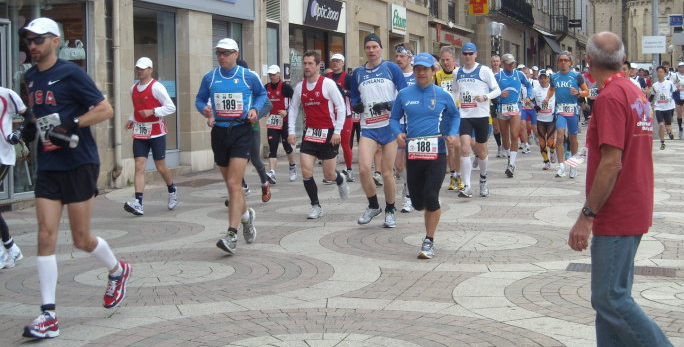 Dan on the left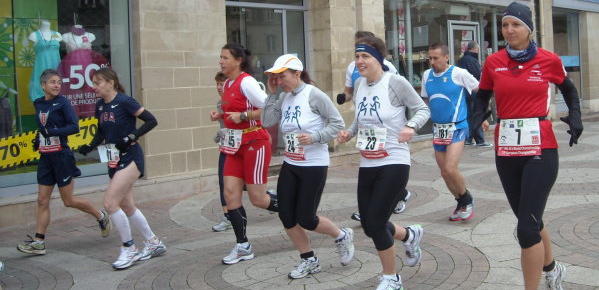 Suzanna & Deb on the left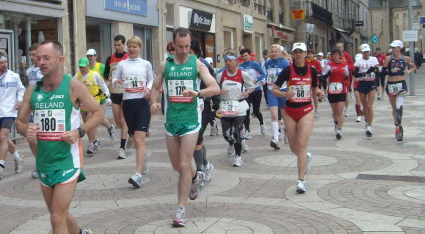 Amy on the far right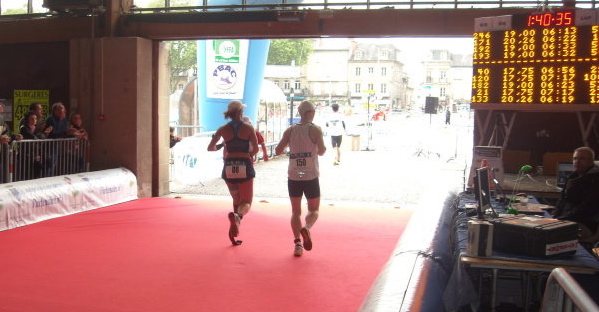 Amy passing the lap-counting scoreboard
Amy sporting her new prosthesis, designed with a vertical slit for the tight turns
An Extra Challenge for Amy: We knew going into the race that one of the biggest technical challenges was going to be the effect on Amy's prosthesis connection of the repeated negotiations of the many tight turns on the course. Amy was struggling early with the fit of the new prosthesis (custom-designed just for this type of course), and she lost a lot of time during the fourth hour adjusting the fit. Even under ideal conditions, for an event of this length Amy has to stop to drain and re-fit the prosthesis every few hours. Team manager Roy Pirrung reports that Amy seems to have made effective adjustments now and appears to be in good spirits.
Approaching the conclusion of the 5th hour, Japan's Shingo Inoue has picked up the pace and established a one-minute lead over American Scott Jurek. Serge Arbona and Phil McCarthy have moved into the top 5. Jill Perry continues to lead the women's race. Jamie Donaldson has moved into the top 10 women. Suzanna Bon and Anna Piskorska are now running 2nd and 3rd for the USA.
8 Hour Report: Shingo continues to lead, with Jurek in 2nd, a couple km back. The big surprise is American Serge Arbona in 3rd, with Phil McCarthy in 7th. One-third of the way into the race, and the American men are way out front, in first place in the national team competition. This is a stunning, unexpected development, but it's still very early to make any predictions or draw any conclusions. Jill Perry, having led for the first 6+ hours, has throttled back. As expected, the entire French women's team is taking command of the distaff race. Anne Cecile Fontaine of France now leads the women's field. Suzanna Bon and Anna Piskorska are now running 2nd & 3rd for the Americans. With 2/3 of the race remaining, the U.S. women are solidly in 2nd place in the team race.
National Team Standings at 10 Hours:
MEN:
1. USA, 362km
2. JAPAN, 360km
3. FRANCE & RUSSIA, 345km
WOMEN:
1. FRANCE, 329km
2. USA, 320km
3. ITALY & CROATIA, 305km
11 Hours: Suzanna Bon passes Jill Perry to take the lead for Team USA women. Perry close behind, and Jamie Donaldson moving up well in 3rd for the Americans. Frenchwomen hold the first 4 spots. No significant new developments in the men's race. We'll have a halfway report and more photos after 12 Hours.
WEATHER REPORT: As they head into the night, the temperature is dropping. It is now down to 50 degree Farenheit, projected to drop to the mid-40's. It is still damp, and light showers are forecast through the night.
HALFWAY REPORT: U.S. & Japanese men are in a virtual dead-heat for the team lead. French women are pulling away from the Americans, who still have a big lead over the Italian women. Jill Perry left the course for a brief nap & massage, but then charged back out, looking refreshed. This allowed the French women to extend their lead quickly. Team Manager Roy Pirrung reports that Perry's break was precautionary, rather than indicative of any serious problem. But just in case, Anna Piskorska is running a bood backup, less than 1km behind the former race leader. Serge Arbona suffered a brief bout of cramping between the shoulder blades. The crew put him in the hands of the "invaluable, incredible" (Pirrung's words) Dr. Andy Lovy, who effected a quick muscular repair and increased Serge's electrolytes. Pirrung's overall assessment of the team is that our top 3 men (Jurek, Arbona, McCarthy) and top 2 women (Bon, Donaldson) are in great position and great shape. Michael Henze is running as 4th American now, but is probably too far off the pace to keep the team in the medals should one of the top 3 falter. Amy Palmiero-Winters seems to have her prosthesis issues under control but is suffering from stomach woes. Dr. Andy is nursing her with Ginger Ale as she focuses on keeping pace with Deb Horn.
More Team Photos to follow soon....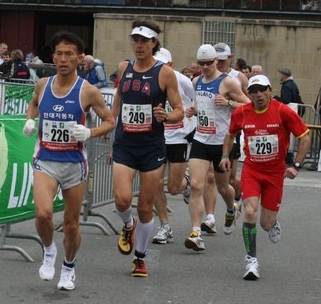 Scott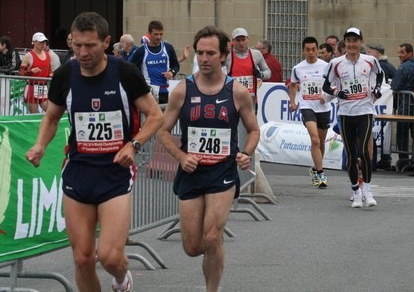 Phil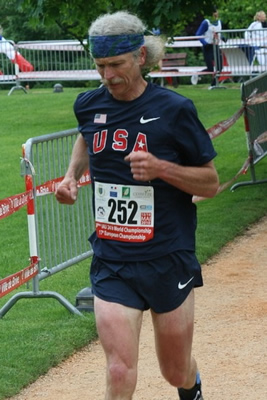 John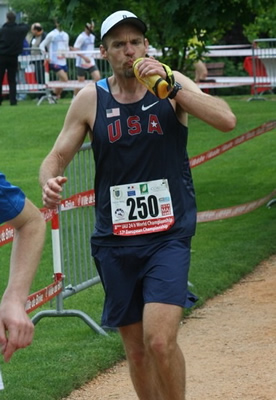 Michael
Serge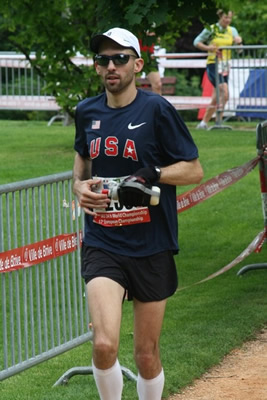 Dan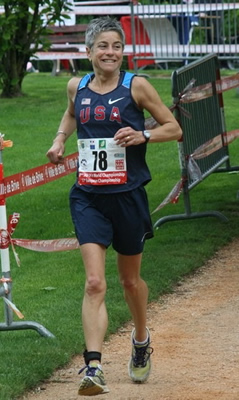 Suzanna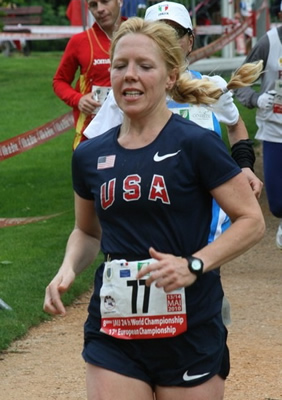 Jill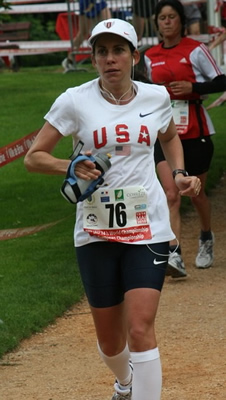 Jamie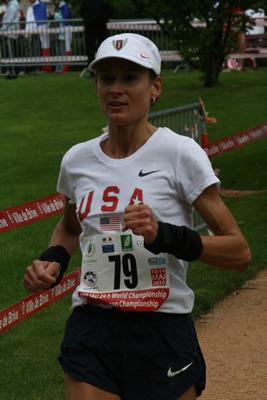 Anna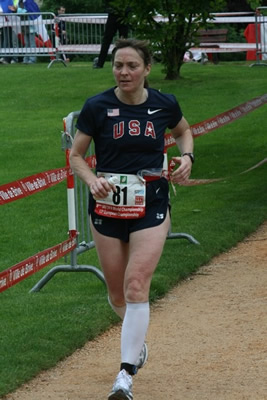 Deb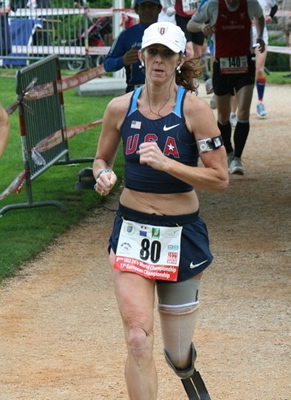 Amy
Back To The Race....
First Team USA Casualty: Jill Perry's revival didn't last long. Dr. Andy is concerned that she is showing signs of potential rhabdomyolisis and has temporarily pulled her from the race. She will rest and ingest for at least one hour, then they'll assess her ability to continue. Anna Piskorska is filling in well, how holding that critical third team spot.
More on Dr. Andy Lovy: He is 75 years young and has run almost 200 ultras. He served as a MEDEVAC field medic in the Vietnam War, so caring for these athletes in the World 24-Hour is a walk in the park for him. All of the international team managers and returning athletes know Dr. Andy well. That's because they always line up for his services during the race, right behind the Americans. He's the most popular guy in Brive right now. Dr. Andy has kept more than one entire national team moving in this race on many occasions. This time he even brought 2 medical students along to assist him.
16 Hours down, 8 to Go.... The temperature may have dropped to the mid-40's (Farenheit), but It's a Barnburner Up Front!.... Shingo Inoue of Japan continues to lead, impressively. American Scott Jurek continues to hold the runnerup spot. But after that, you might as well slam a cue ball into a triangle of billiard balls. The next dozen men's spots are a total toss-of-the-dice at this point--and along with them, the Men's team placings. American Phil McCarthy lingers just a bit at the aid station (and maybe blinks his eyes), and suddenly he's dropped from 7th to 12th place. The 5-place difference is irrelevant. It's a matter of minutes (which could be a shoe change). The one man who, on paper, belongs nowhere near any of this top-of-the-world "gunfight at the OK Corral" is American Serge Arbona. Yet he continues to defy all odds by insisting on remaining in the top 5. But right now the most impressive American man is not among these top 3. It is Michael Henze (who only a few years ago weighed over 300 pounds and couldn't run from here to the bathroom). If any of the top 3 Yanks should falter, with each passing hour Henze is quietly moving up into the top 20..... Henze's relative counterpart on the distaff side is top American Suzanna Bon. Bon has steadily but quietly become one of the top California trail ultrarunners over the past few years--but has remained just on the fringe of "name recognition" because she hasn't won one of the Marquee Events. Right now about 90% of the European and Asian national team managers are watching Bon, recording her lap splits, and asking "Who's that?" She is the "Who's that" girl of this year's World Championship. As we approach the event's 17th hour, everyone knows who defending World Champ Anne Cecile Fontaine (France) and defending World bronze medalist Monica Casiraghi (Italy) are. Predictably, the two are running 1-2 right now. But they have no idea who the California girl from the Sonoma Valley wine country is, as she closes in on the individual bronze medal position (which she is likely to take shortly). It's going to be a very interesting night....
Confirmed: Jill Perry is Out of the Race. The American who threw down the gauntlet from the start and led for the first 6 hours is out. USA Team Doctor Andy Lovy, after consulting with the race medical director and overseeing successful IV treatment of Jill, has made the decision that the USA National Champion is unable to continue. She has responded well to the IV treatment and is in no medical danger. But her race is over.
American Dan Rose Now Also Out of the Race: Cancer-survivor (Non-Hodgkins Lymphoma) Dan Rose is now also out of the race. Dan reported to Dr. Lovy that he had not been able to urinate for a few hours. He was evaluated by the official race medical team and pulled from the race. Rose was running well and was still on pace for a personal best performance.
Just Before 18 Hours: Phil McCarthy is struggling and faltering. He has been spending time off the course, getting massage and donning extra clothes. BUT: Michael Henze is picking up the slack. In preparation for this race, Henze has been logging 250+ mile training weeks. In the last hour McCarthy has fallen from top 10 to 24th place. Henze has passed him and is now about to crack the top 20.
Deb & Amy: Keep your eye on the edge of that radar screen. Quiz: Who Has Been The Most Consistent World-Class U.S. 24-Hour Runner the Past Half-Decade?.... No, not Jamie Donaldson (although it has taken incredible consistency to beat her).... The answer is Deb Horn. And what has Deb Horn been doing the past 18 hours? The usual, the predictable. Running the most consistent American race. OK, who has been the most volatile U.S. runner in this race (until the recent forced medical retirements of Jill Perry & Dan Rose)? Answer: Amy Palmiero-Winters. So, what do the most consistent and the most volatile have in common? Well.... Amy spent the first 12 hours dealing with a biomechanical problem that (it's safe to say) no world-class ultrarunner in human history has ever had to deal with, plus intestinal and stomach turmoil. So, how to salvage a respectable race from what appears to be a disaster in the making? Once you manage the mechanical and intestinal crises (thanks to your prosthetist and Dr. Andy), try following in the footsteps of the most consistent American World-Class 24-hour runner. Which is what Amy has quietly done for the past 12 hours. Now, Team Manager Roy Pirrung reports: "Amy has finally settled into the form that gained her berth on the U.S. squad. She now looks like a sprinter going by. She is one of the few still dressed sparsely with only shorts and singlet, fueled by her speed, there is no need for extra clothing as the speed is generating all the heat she needs and is also warming the spirit of, not only the team, but that of the other teams as well." Since her biomechanical/gastrointestical nadir (about 12 hours ago), Amy has moved up 60 places (mowed through 25% of the field), thanks to her strategy of riding Deb's coattails and, maybe a little bit of determination, toughness, and "never give up" spirit....
Aussie Women on the Move: They took us by surprise! The Australian women are now the fastest-moving women's team on the course. And the U.S. girls seem to be in a general funk. The American women are now lying in 3rd place, over 12k down to the ladies from Down Under but still with a cushion on the German and Japanese women. France is still way out in front, and at this point they would probably all have to walk it in to the finish in order to lose their gold medal.
Sad News: The Italian women have now also passed the Americans, who are now lying 4th in the team standings. But team manager Roy Pirrung feels the American girls can rebound in the final 4 hours.
Hey Folks, How About Some Excitement?.... With 4 hours to go, American Scott Jurek is down 6.2 km to race leader Shingo Inoue of Japan. A few hours ago he was down by almost 8km. During the last hour Jurek ran 1.3 km further than Shingo. And Jurek is on pace to break the 11-year old 24-Hour American Road Record. Do the math, and consider whether you really want to go to bed tonight....
Anna Piskorska passes Jamie Donaldson, with Suzanna Bon up ahead still leading the Americans. This trio now struggling to claw back the 9km deficit between them and the Italian ladies for the team bronze medal.
The sun is up and Anna Piskorska (who, only a few years ago, would have been running for Poland) is on a late-race tear. The petite, naturalized American will soon pass Suzanna Bon to become the American women's leader. Can she rally the troops to re-take the team bronze medal?
Piskorska is now the lead American and she is flying. She is the fastest woman on the course. She has picked up almost 20 places (overall) in the last 2 hours, and has run over 18km in those 2 hours. The Italians' 3rd scorer ran 13km in the same 2 hours. With 3 hours to go the Italians had a 15km lead on the Americans. Can Piskorska single-handedly erase that deficit to snatch the bronze medal? Like just about everyone else on the course, Bon & Donaldson seem pretty much locked into a maintenance pace. Can the petite Polish-American of whom hardly anyone in the U.S. ultra community had ever heard pull it out all by herself?
The Team Gold Medals are locked. To no one's surprise: Japanese Men & French Women. The U.S. Men are still holding silver, but closing fast are the Italians, French, and Brits. It will be a nail-biter, not to mention Piskorska vs. Italy.
Michael Henze has just passed Serge Arbona. The two Americans are now running in 16th & 17th place, behind Jurek in 2nd.
Deb Horn has just passed Jamie Donaldson to move into USA #3 scoring spot. Amy Palmiero-Winters is another 5km behind.
USA Team Medal Assessments: With 1.5 hours to go, the U.S. Men are holding the silver medal with a 2.5km cushion over the Italians. The U.S. Women are just outside the medals. Anna can't do it by herself: the top 2 Italian ladies are still moving too well.
Scott Jurek Breaks 24 Hour American Road Record of 261.454 km, set by Mark Godale in 1999. Can he surpass the Absolute American Record of 265.932 km, run on the track by Rae Clark in 1990?
The Race is Over! The 8th Edition of the 24 Hour Run World Championship has been the best!
New World Men's Champion: Shingo Inoue, JAPAN, 273.531+ km (169.96+ miles), final partial lap distance still to be measured. New Asian Record.
2-Time World Women's Champion: Anne Cecile Fontaine, FRANCE, 239.677+ km (148.92+ miles), final partial lap distance still to be measured.
New American Men's Road Record: Scott Jurek, 266.008+ km (165.28+ miles), final partial lap distance still to be measured. Possibly new Absolute American Men's Record (Road or Track). Individual World Silver Medalist.
==================================================================
National Team Results (Now official):
MEN
1. JAPAN
2. ITALY
3. USA (Scott Jurek, Michael Henze, Serge Arbona)
4. FRANCE
WOMEN
1. FRANCE
2. ITALY
3. AUSTRALIA
4. USA (Anna Piskorska, Deb Horn, Suzanna Bon)
TEAM USA Individual Results (Now official, including final partial-lap distances):
MEN
2. Scott Jurek, 165.70 miles (new Absolute American Record - Greatest 24 Hour distance ever by an American)
12. Michael Henze, 154.48 miles
21. Serge Arbona, 150.48 miles
34. Phil McCarthy, 143.23 miles
.... John Geesler, 108.41 miles
.... Dan Rose, 91.27 miles (withdrawn for medical reasons)
WOMEN
10. Anna Piskorska, 133.23 miles
14. Deb Horn, 129.13 miles
17. Suzanna Bon, 126.36 miles
19. Amy Palmiero-Winters, 123.99 miles
26. Jamie Donaldson, 120.61 miles
.... Jill Perry, 80.36 miles (withdrawn for medical reasons)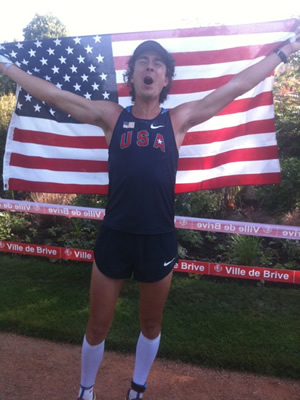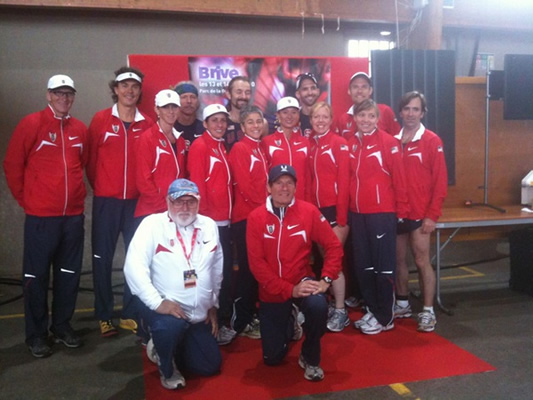 And some closing shots, from the final hour of the race....