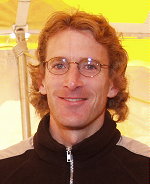 National championship events have a way of playing out like this. Saturday morning at the Huntington Reservoir, two elite ultramarathoners dueled it out for over three hours, neither aware of the other's strategy or even strengths. And when one of them, Charles Hubbard, pulled up at an aid station three miles from the finish, symbolically waving a white flag, no one was more suprised than Jim Garcia.

Garcia, of Massachusetts, won The Huff 50K Trail Run on the Banks of the Wabash after pulling away from Hubbard at the 29-mile mark of the 32.4-mile race in northern Indiana. Garcia braved sub-zero wind-chills for much of the race and finished in 3 hours, 39 minutes and 9 seconds, a minute ahead of Hubbard, of Minnesota.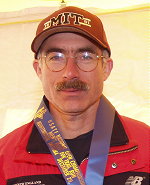 By winning the Huff 50K, Garcia adds another accomplishment to a career of impressive victories. This one, a national championship. The race was recognized as the 2001 USA National 50K Trail Championship by USA Track & Field.

"I'm pretty happy with how the race went today," Garcia said shortly after finishing. "It was a tough race in rough conditions and the competition was fierce."

Anne Riddle won the women's race in 4:16 after overtaking Ann Heaslett at the beginning of the third and final 10.8-mile loop. Heaslett finished in 4:21.

Riddle's victory provided the perfect ending to an impressive 2001 racing season. The national 50K title bookends well with her 100K title earned in Pittsburgh back in March.

Unlike the Riddle-Heaslett struggle, Garcia-Hubbard was an exercise in covert operations. The runners had never faced off in competition and didn't know each other. It made for some tense moments early in the race as the two tried to discover each other's strategy, strengths and current condition.

"We talked some; mostly about our goals for the race and how we wanted to run it," Hubbard said of he and Garcia. "I knew something about him and he knew about me. Actually, I don't know how much he really knew about me. I know I've read a lot about Garcia over the years."

Garcia, a true veteran of the sport, had the situation pegged pretty early.

"I could tell we were a lot alike," Garcia said. "We both wanted to run away and hide from the field. I was hopping those other runners behind us would work to stay close because I knew if they did, they would fade on the third lap."

What's known about Garcia is simple: he's been on the USA National 100K team seven times and has been on two silver medal-winning US teams at the World Championships. Hubbard, on the other hand, is a 50K specialist. His streak of 17 straight victories at this distance ended this fall in Texas at Sunmart. So as the runners took turns at the lead, both were left wondering who would do what.

| | |
| --- | --- |
| | "I made a move on the second loop figuring I could take control," Garcia recalled. "But it hurt me more than I had thought it would. By the end of the second loop, I had to stop and get some (calories)." |

Garcia said his 30-second lead was a 30-second deficit by the time he left the start/finish area for his third loop. Soon, he was behind by a minute. And, for a brief time, in trouble.

"I just didn't know if I was going to catch him," Garcia said. "But then I got within in 30 seconds and even though I felt pretty badly, I was closing in. When I caught him at the last aid stations (three miles from the finish) he just stopped, looked at me, and said 'Go ahead, Garcia, get up there where you belong.' He just let me go."

Hubbard doesn't recall the exchange going like that, but it was a surrender nonetheless.

"I had to stop and get some drink," Hubbard said. "You have to decide whether you want to take care of your body or not take a break and try to push through. To tell the truth, I was surprised that I was in the lead. I thought Jim was ahead of me and when I turned and saw him come in to the aid station, I said, 'What the hell are you doing here?' After that, it was just a matter of trying to hold on to second place."

Defending champion Mark Godale, of Ohio, never challenged Garcia and Hubbard and didn't come close to claiming a third straight Huff 50K title. In fact, he ran much of the race in fourth and overtook Indiana's own Patrick Puckett near the finish.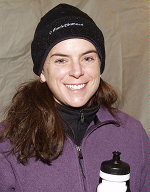 For Riddle and Heaslett, plenty more was known about the other and it was more a test of surviving the elements and a hilly, icy track.

"We know each other pretty well," Riddle said. "We went to France together this year for the (100K) World Championships. I was on the team and she was an alternate."

Heaslett said the two, who took turns taking the lead over the first two loops, talked only a little.

"We talked mostly about how cold we were," Heaslett said while sipping on hot soup in the finisher's tent.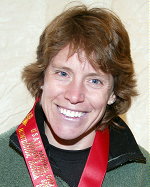 Heaslett, from Madison, Wisconsin, said she never thought about the weather being in her favor. Riddle is from Asheville, North Carolina and said she hadn't run in temperatures before 40 degrees until coming up for the race.

"Ordinarily, I would have had an advantage. But not this year," Heaslett said. "We haven't had snow until about a week ago. It's been pretty warm."

From the start, Riddle's strategy was clear.

"I wanted to run three pretty even loops," Riddle said. "I like to get out front and then just keep going. I'm not being critical of Anne, but she tends to go out too fast. I was planning on making a move on the third loop."

The race went according to Riddle's plan, with one minor exception: defending champion Michelle Mitchell, of Alaska, took an early lead. But within four miles, Riddle and Heaslett were in control. Well, as much as they could be.

"I heard all the stories of last year," Riddle said of the 2000 Huff 50K, which was run in 18-inches of snow and single digit temperatures. "So I was prepared (mentally) for a lot worse conditions. It wasn't too bad except for the ice. You had to be careful."


Text copyright 2001, Brett S. Hess
Photographs copyright 2001, David Weikel